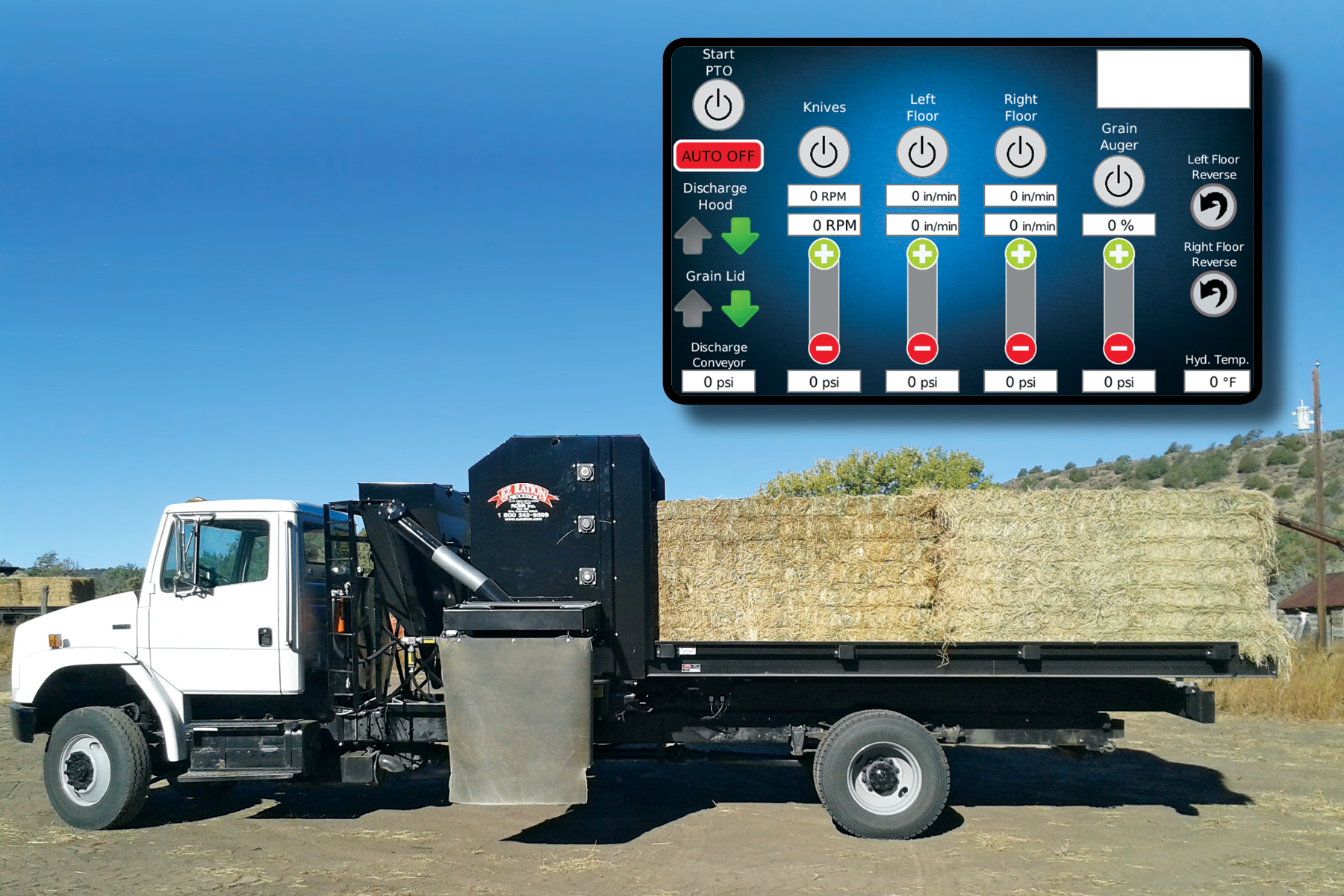 New Computer Controlled Hydraulic Drive 4Bale Truck Mounted EZ Ration Processor
Here is an example of our new Computer Controlled Hydraulic drive four bale EZ Ration Processor with nearly all the bells and whistles — Grain attachment with an air activated lid — air activated Discharge hood — complete Scale system –nearly everything you can get to increase the efficiency in your feeding operation is on this unit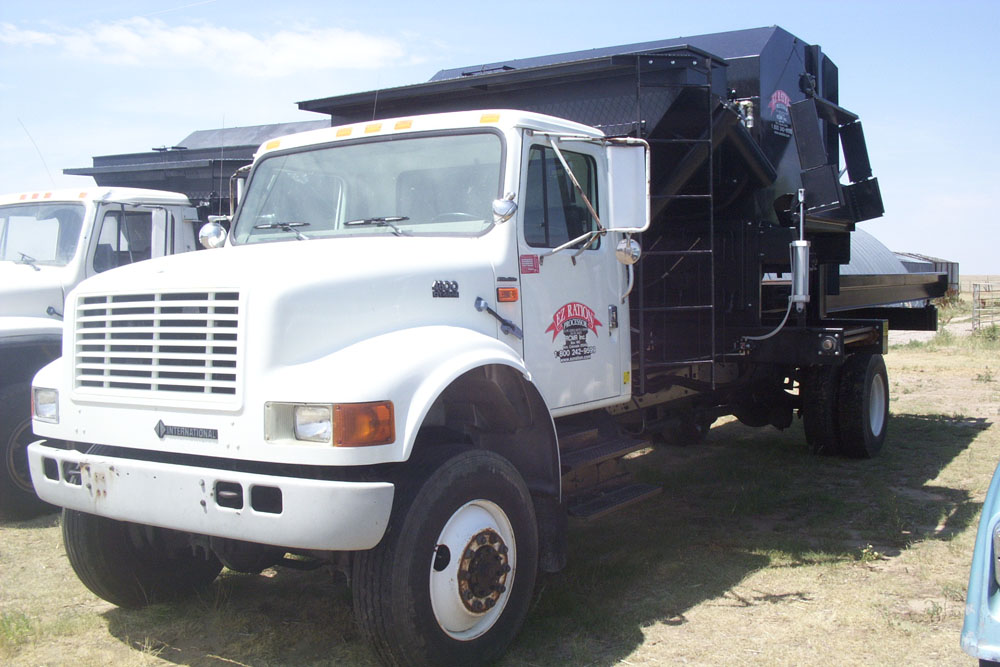 Conventional Drive 4Bale Truck mounted EZ Ration Processor with Grain
Here is an example of a conventional drive Four Bale EZ Ration Processor with the Grain attachment with an air activated lid — air activated Discharge hood — complete Scale system–On a 4×4 Truck – for Trucks with the MT653 Allison Transmission we recommend our conventional drive unit we have been building for years -we have been continuing to work on improving and perfecting this model for nearly 2 decades – this is a great unit for a 4×4 or 6×6 truck that has the MT653 Allison Transmission.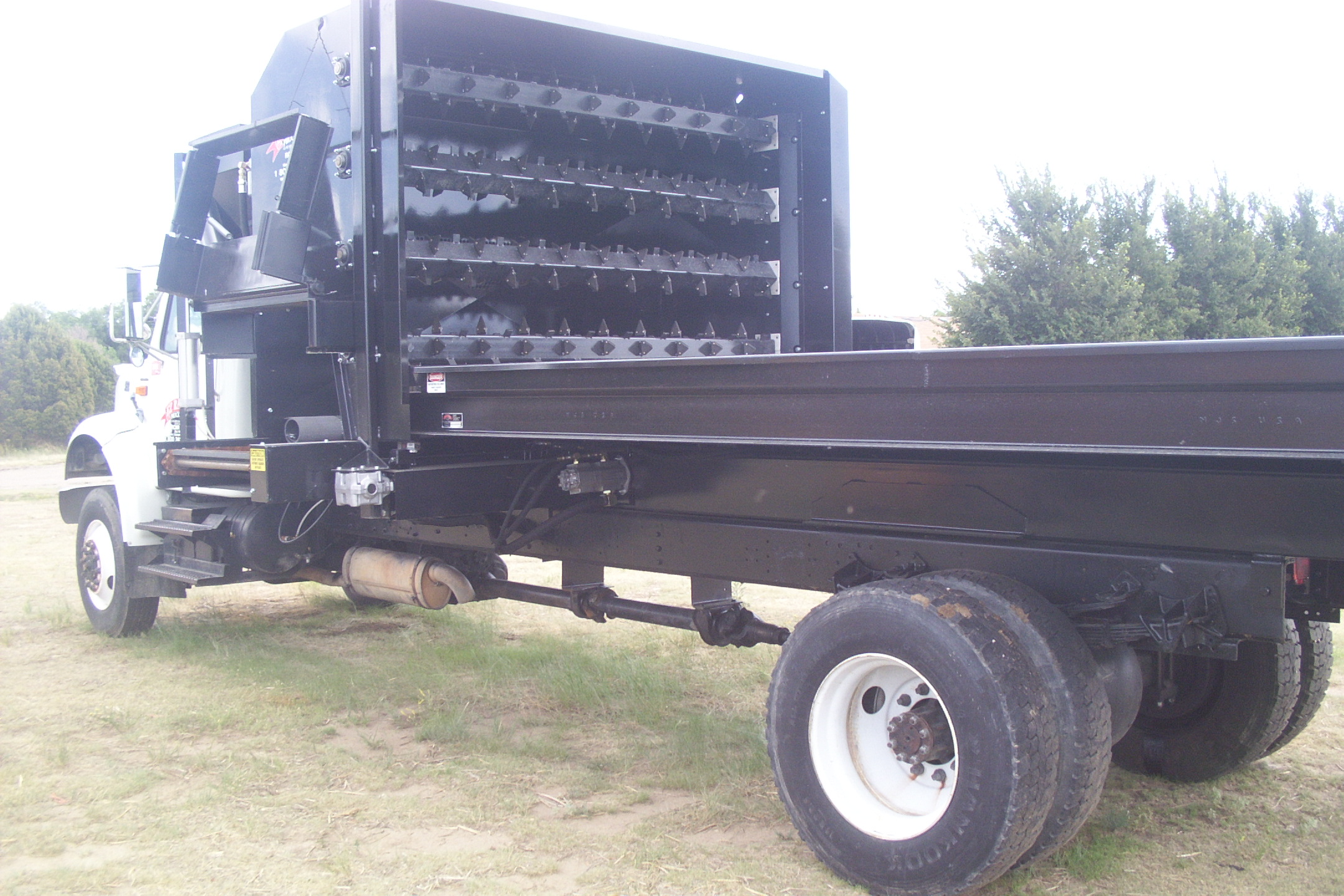 4Bale Truck Mount EZ Ration Processor
This is an example of a Four Bale Truck unit with a grain attachment mounted on a late model 4×4 International truck–this unit has a complete scale system, an air grain lid, and an air discharge hood — Put chains on the steering axle and you can go nearly anywhere—Load up some good hay and some cheap filler feed –the patented ability to run the floor chains independently allows you to blend the roughage any way you want–add some grain or cake for your replacement heifers, and you are set–change and adjust the blend for different classes of livestock and maximum feeding efficiency —
THERE IS NO BETTER – CHEAPER – QUICKER WAY TO FEED COWS –ONE MAN -ONE MACHINE – ONE OPERATION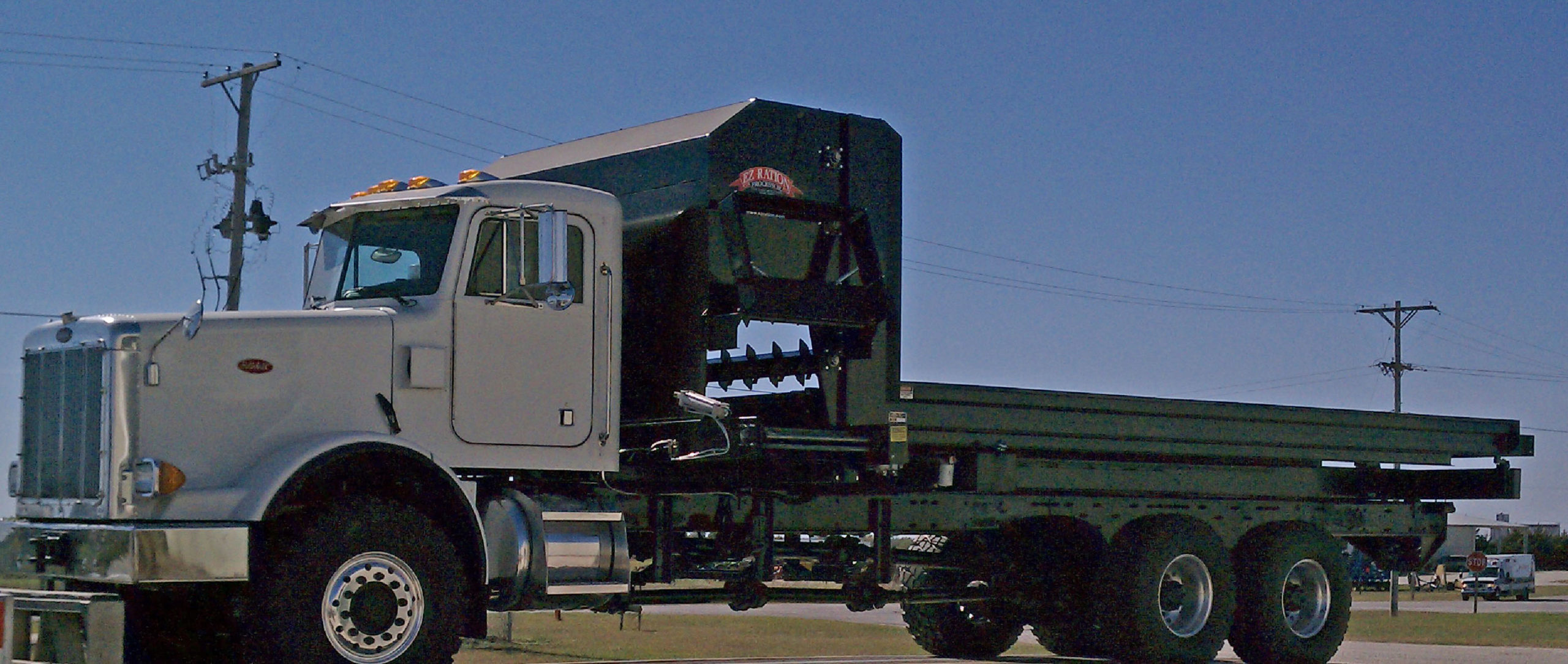 6Bale Truck Mount EZ Ration Processor
This is a 6 Bale Truck Mounted EZ Ration Processor mounted on a very nice 6X6 Peterbuilt — This is a very nice unit– Units like this are setting new standards in the cattle feeding industry — If you can't get them fed with this setup — you can't get them fed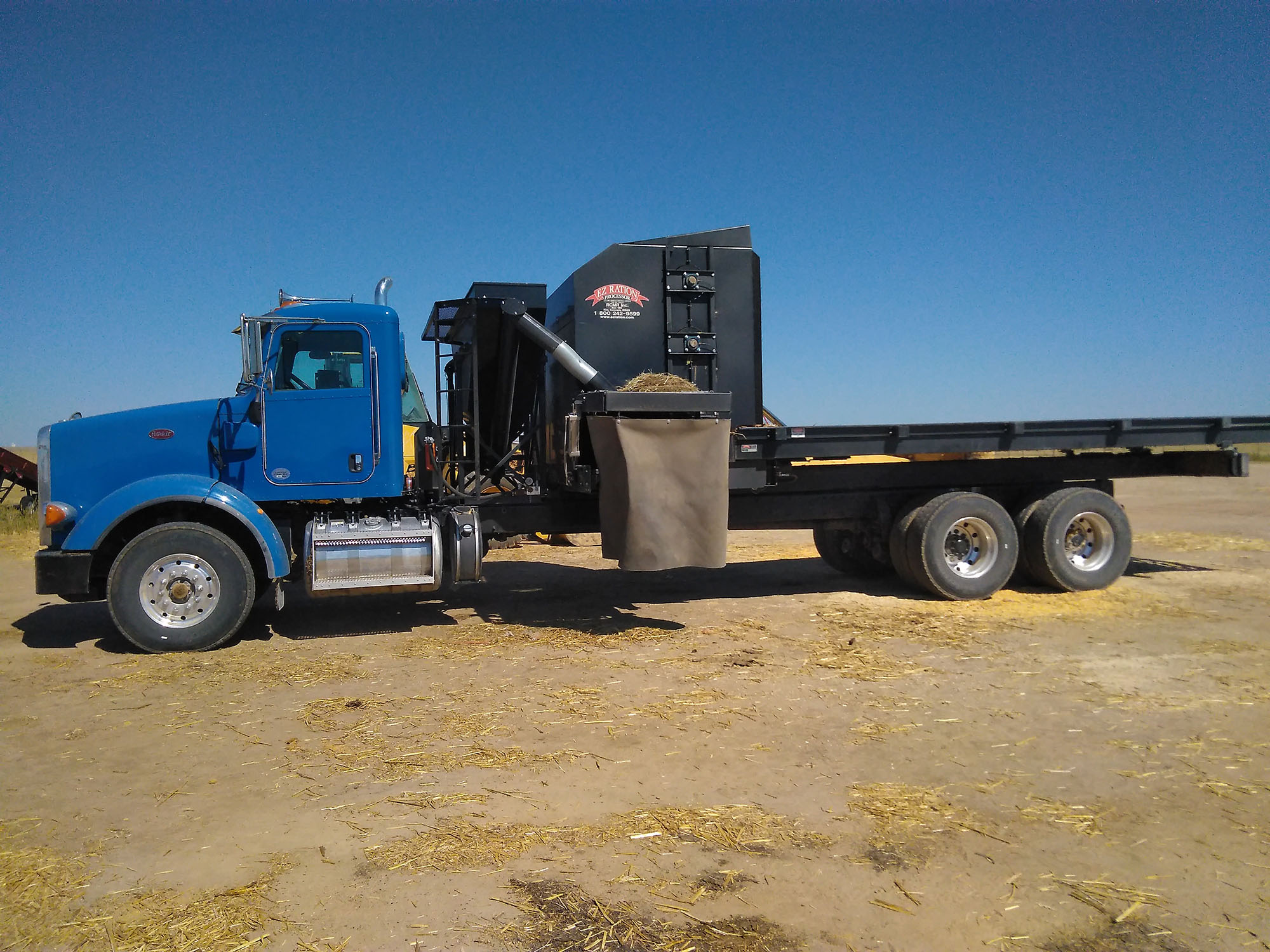 6Bale Truck Mount EZ Ration Processor with Grain attachment
This is a sharp 6bale Truck mounted EZ Ration Processor with a Grain attachment the air discharge hood,an air grain lid, and the complete scale system it also has the beater hood extension. We recommend these units go on tandem trucks as you can see they are pretty long – they require a frame length of 235 inches from the back of the cab to the center of the tandems. Man what a nice unit that can really carry a lot of feed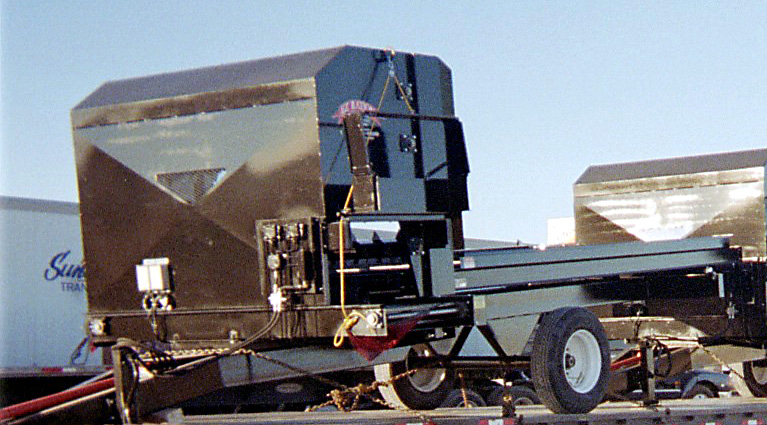 4Bale Trailer Mount EZ Ration Processor
This Four Bale Trailer Mounted EZ Ration Processor has a Discharge Hood and stake pockets—The Four Bale unit does not require a high horse power tractor, an 100 to 120 horse power tractor with 16 gpm hydraulic output is sufficient. It requires one set of hydraulic outlets to drive the floor chains and a thousand speed PTO drive to run the shredders and discharge conveyor. Like all EZ Ration Processors it can blend two different types of hay/feed in any desired ratio and is probably the most problem free processor on the market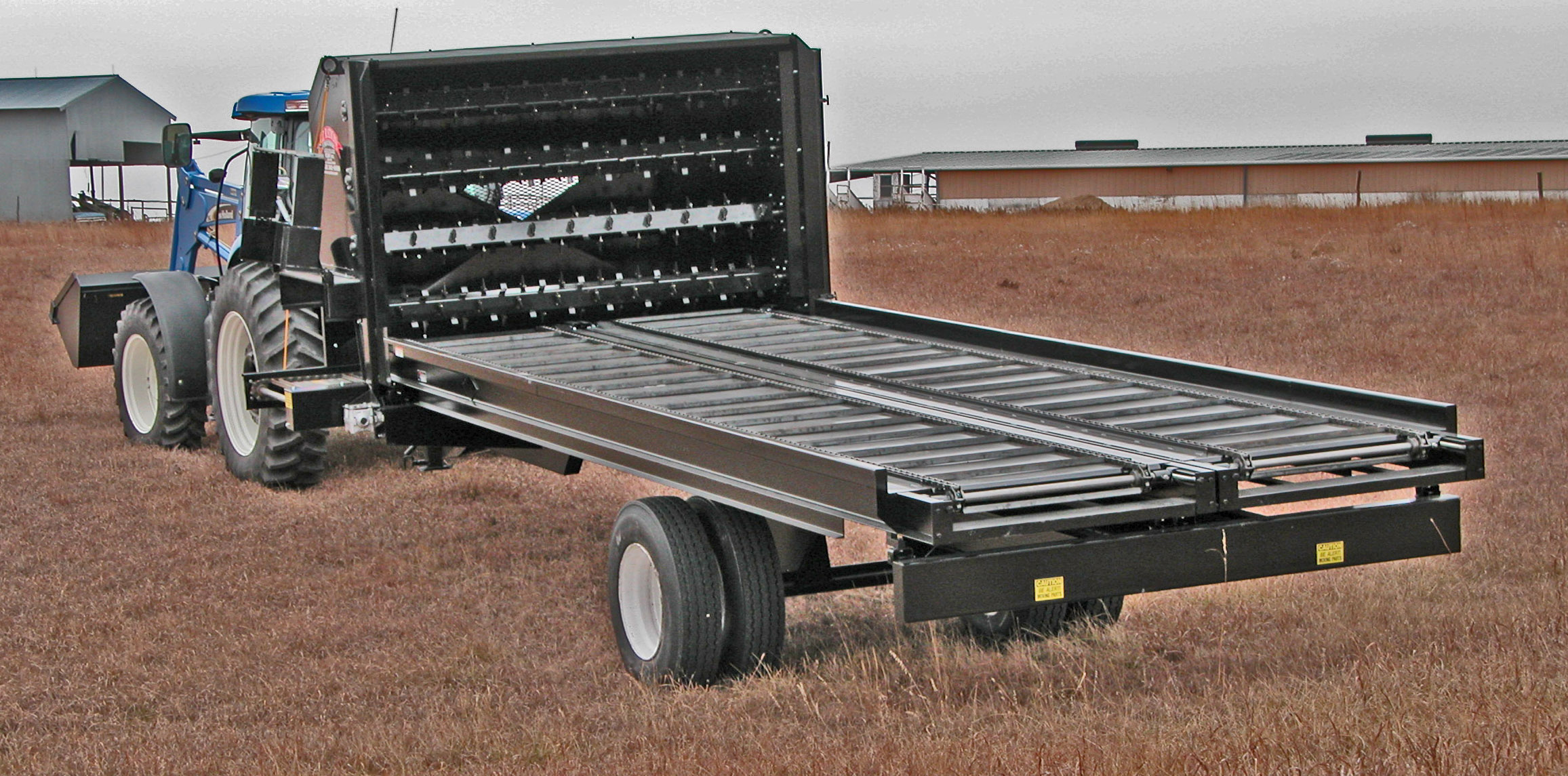 6Bale Trailer Mount EZ Ration Processor
Six Bale Trailer Mounted EZ Ration Processors are probably our most popular units * they carry 50% more hay for only a few dollars more.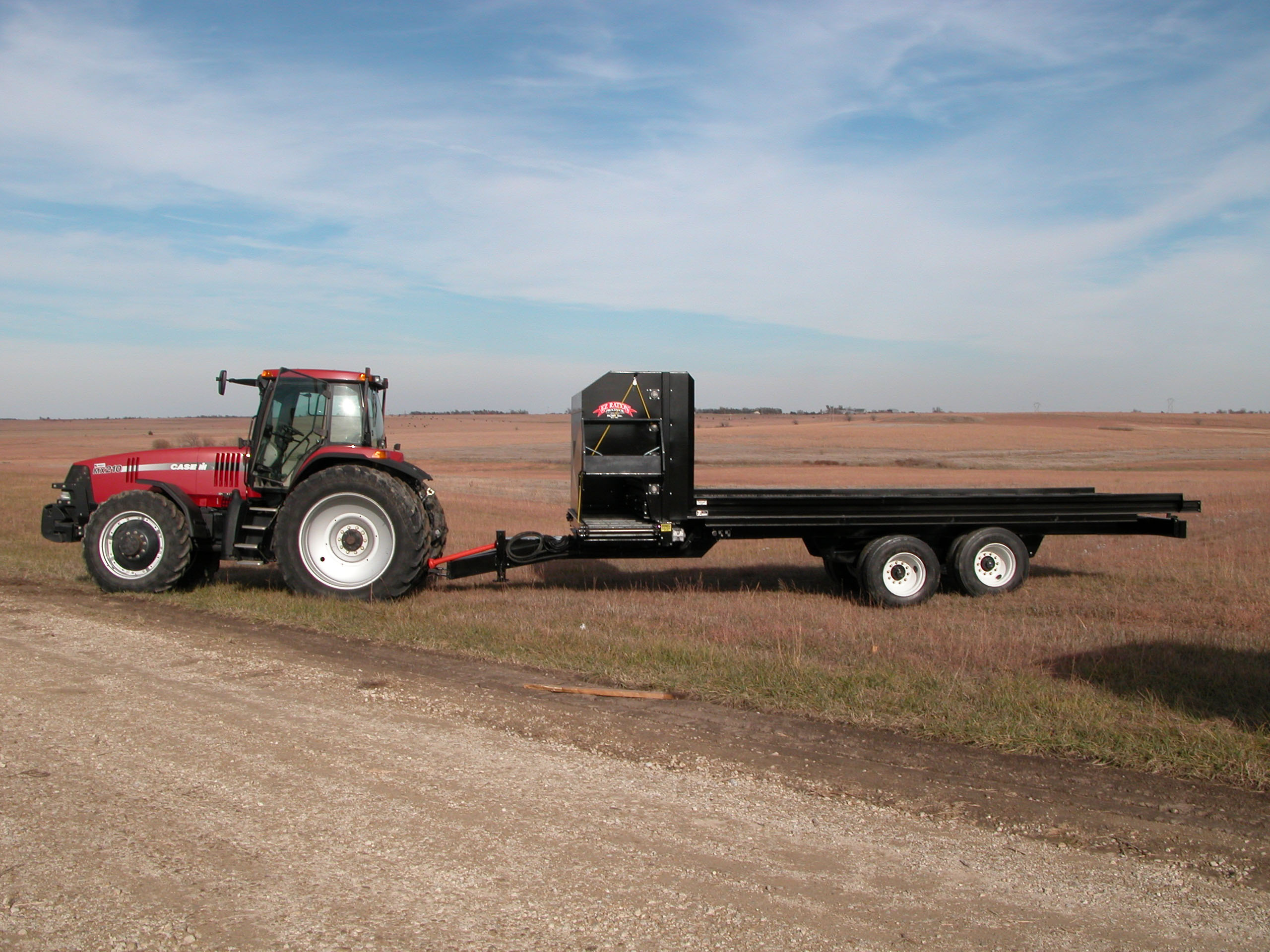 12 Bale Trailer mount EZ Ration Processor with Tandems
This 6Bale Trailer mounted EZ Ration Processor has a 3×4 mid-size stacking kit installed on it which includes a second axle and a rocker arm suspension system – beefed up floor supports and an 8 inch beater hood extension (not shown) the 3×4 stacking kit option turns a 6bale unit into a 12bale unit(see options listed below)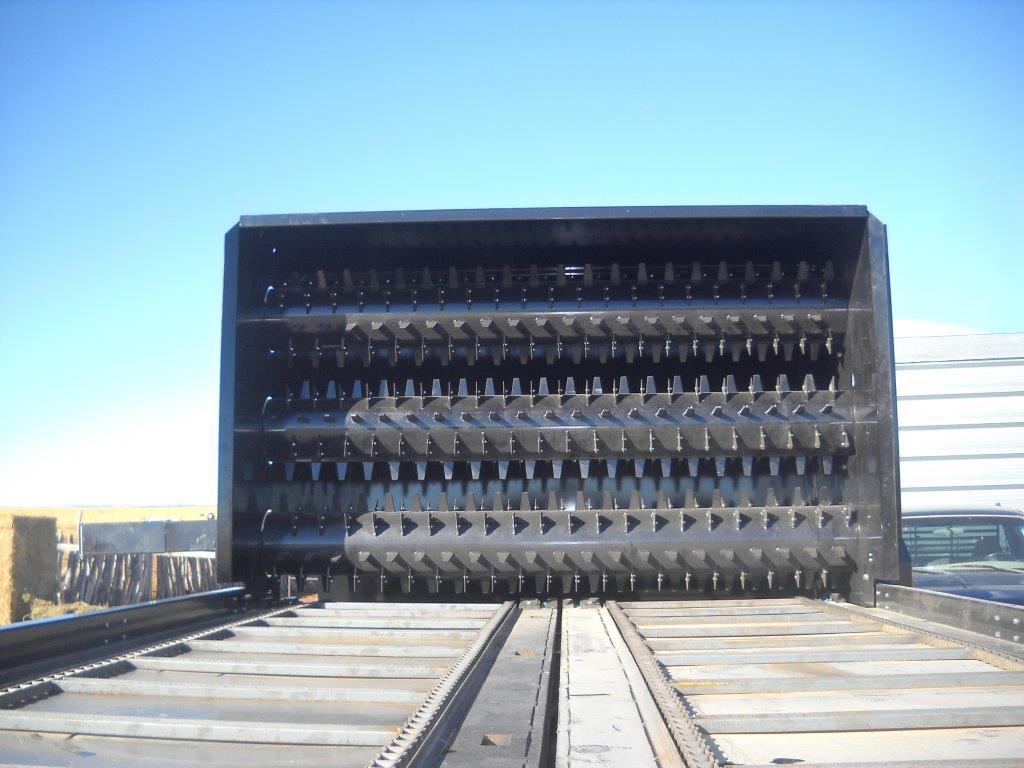 Stake Pockets give the producer the option of adding sideboards on one sides and down the middle — With the sideboards the producer can feed silage on one side and a bale of hay/feed on the other side and mix the two in any desired ratio—If silage is an option where you live go to our EZ Ration Calculator page and put in you own hay/feed and silage test and see just how cheap you could feed– We have had customers that have really hit a home run utilizing the EZ Ration Processor to blend silage with dry processed roughage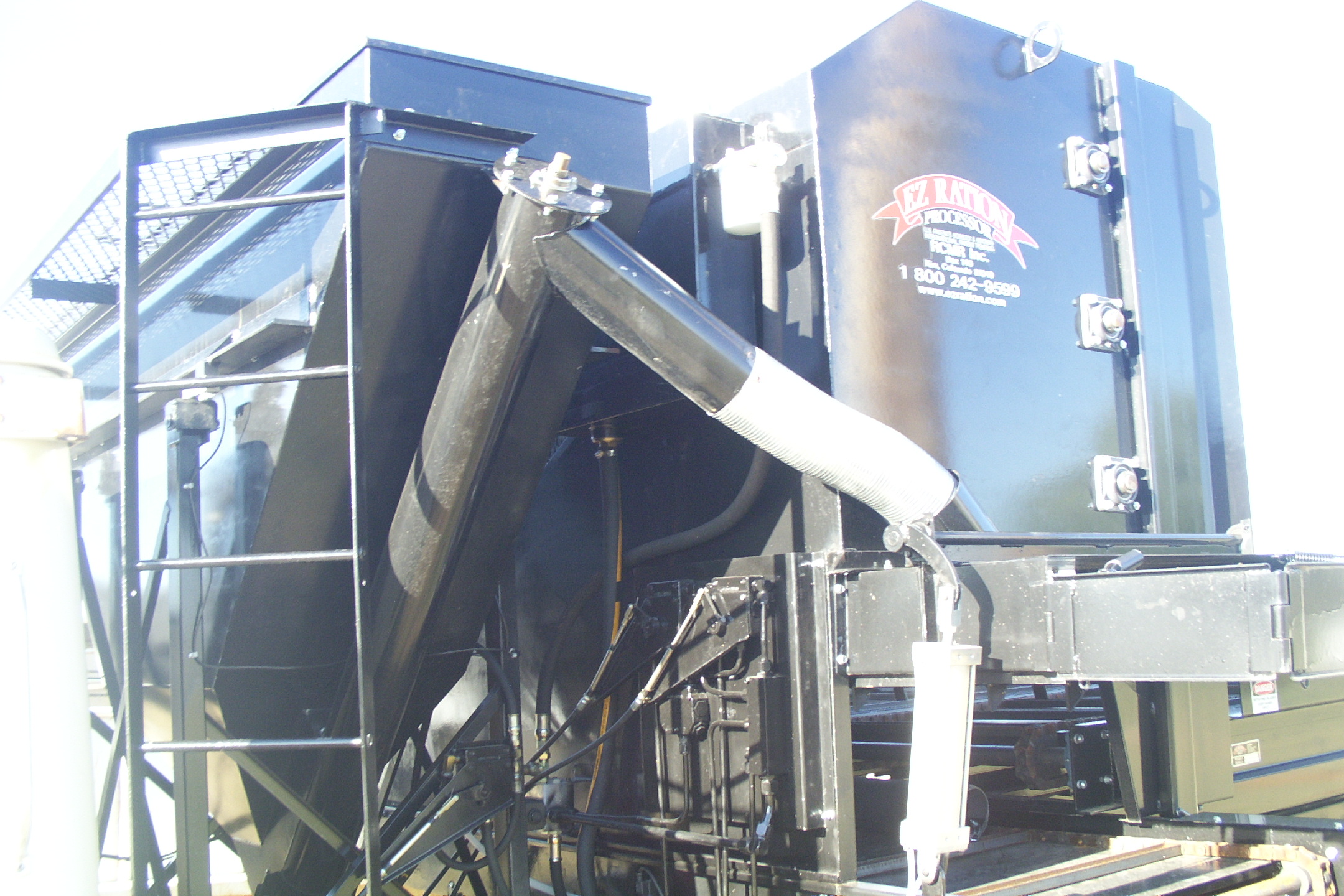 Our Grain Attachment gives the producer the option of adding grain in various amounts to the ration while delivering it to the feed bunk. – It is available on both the Trailer Mounted and the Truck Mounted models. There is a air activated lid option available on the Truck Mounted version as well — Adding the Grain Attachment to you EZ Ration Processor really increases your feeding options — From helping the cows out with a little extra energy from time to time to helping that first calf heifer breed back to weaning/growing your calves to putting a pound or two on the old cull cow or bull before they go to market it is well worth the extra money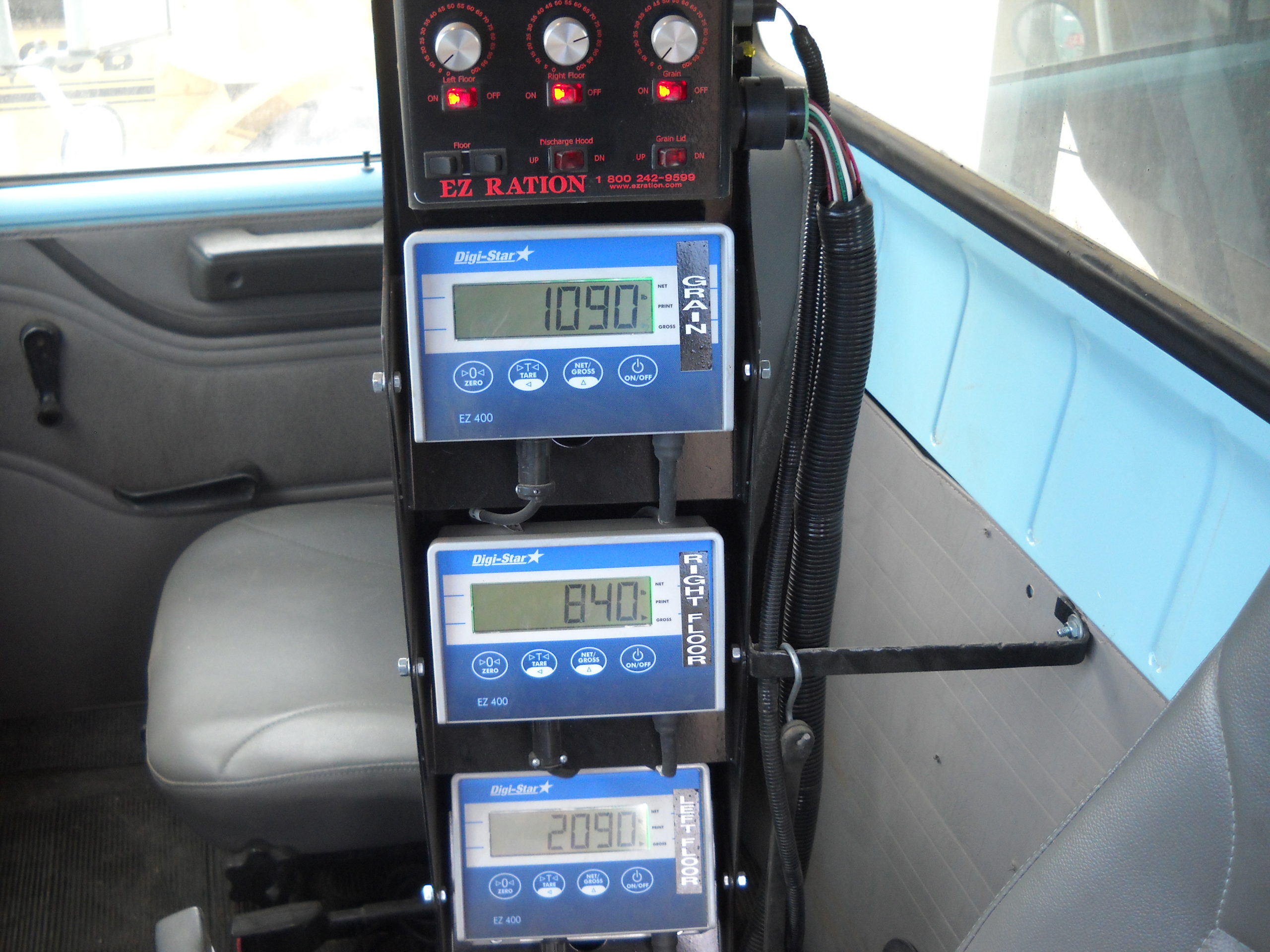 Our new scale ready model EZ Ration Processor is designed with the floor split so the producer can weigh the hay on the left floor chain independently from the hay on the right floor chain* a third scale system can be added for the grain attachment** now the producer will know the exact amount of each feed source fed.
Discharge hood– Manual or Air Activated
Our discharge hood allows you to feed processed hay during high winds and still get the hay in the bunks.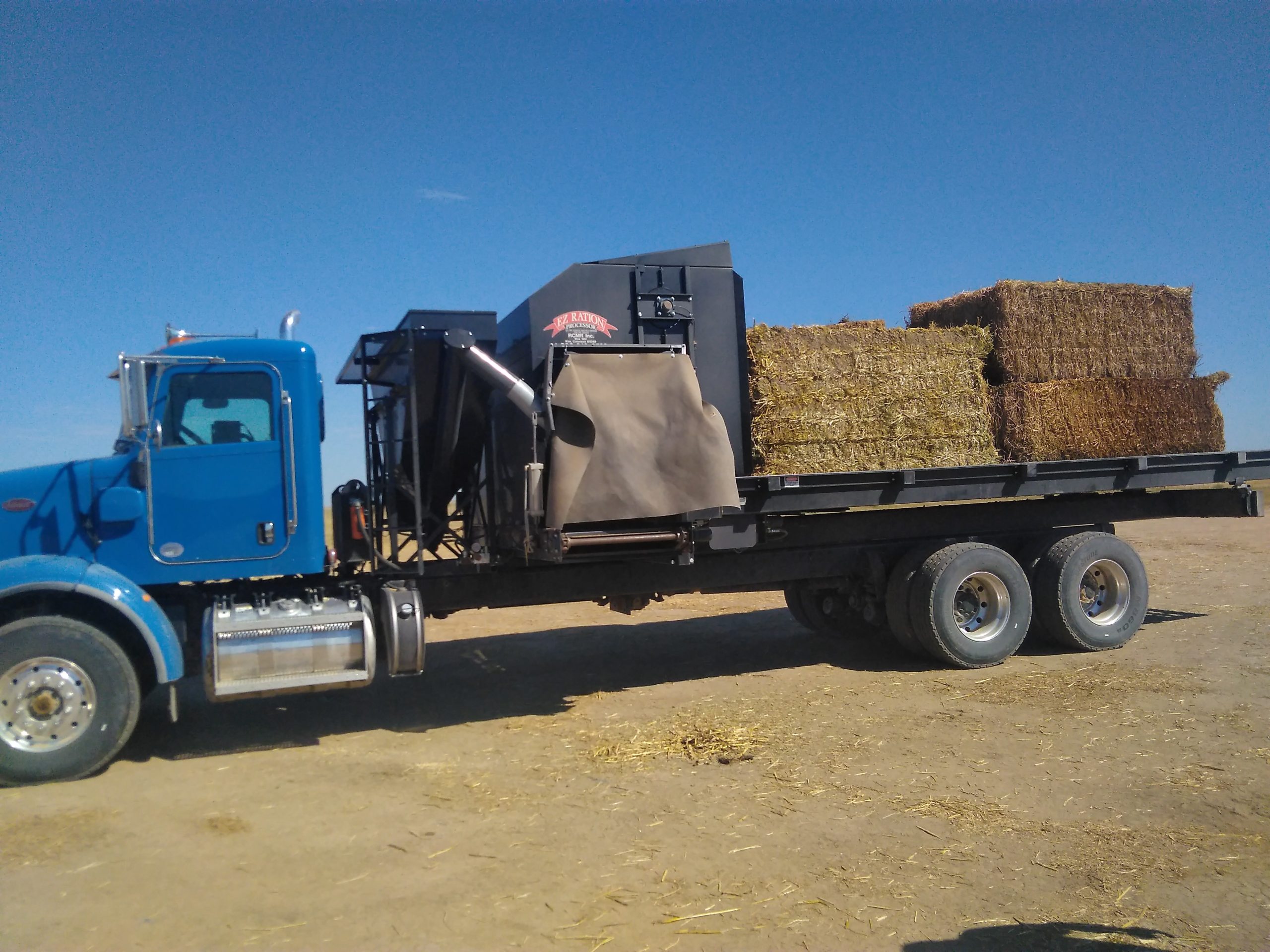 Beater Hood Extension for stacking 3x4x8 bales
Beater Hood Extension for stacking 3x4x8 bales
The 8 inch Beater Hood Extension allows the producer to stack the mid sized 3x4x8 bales dramatically increasing the amount of hay that can be processed – blended and fed in one loading — you can note by the picture a conventional 4x4x8 bale in front and the 3x4x8 bales stacked behind – Note the beater hood extension is all that is needed for stacking the midsized bales on 4 and 6 bale truck models and the 4 bale trailer model — However the 6 bale trailer model requires the stacking kit which included this extension as well as a second axle and other items listed below under that option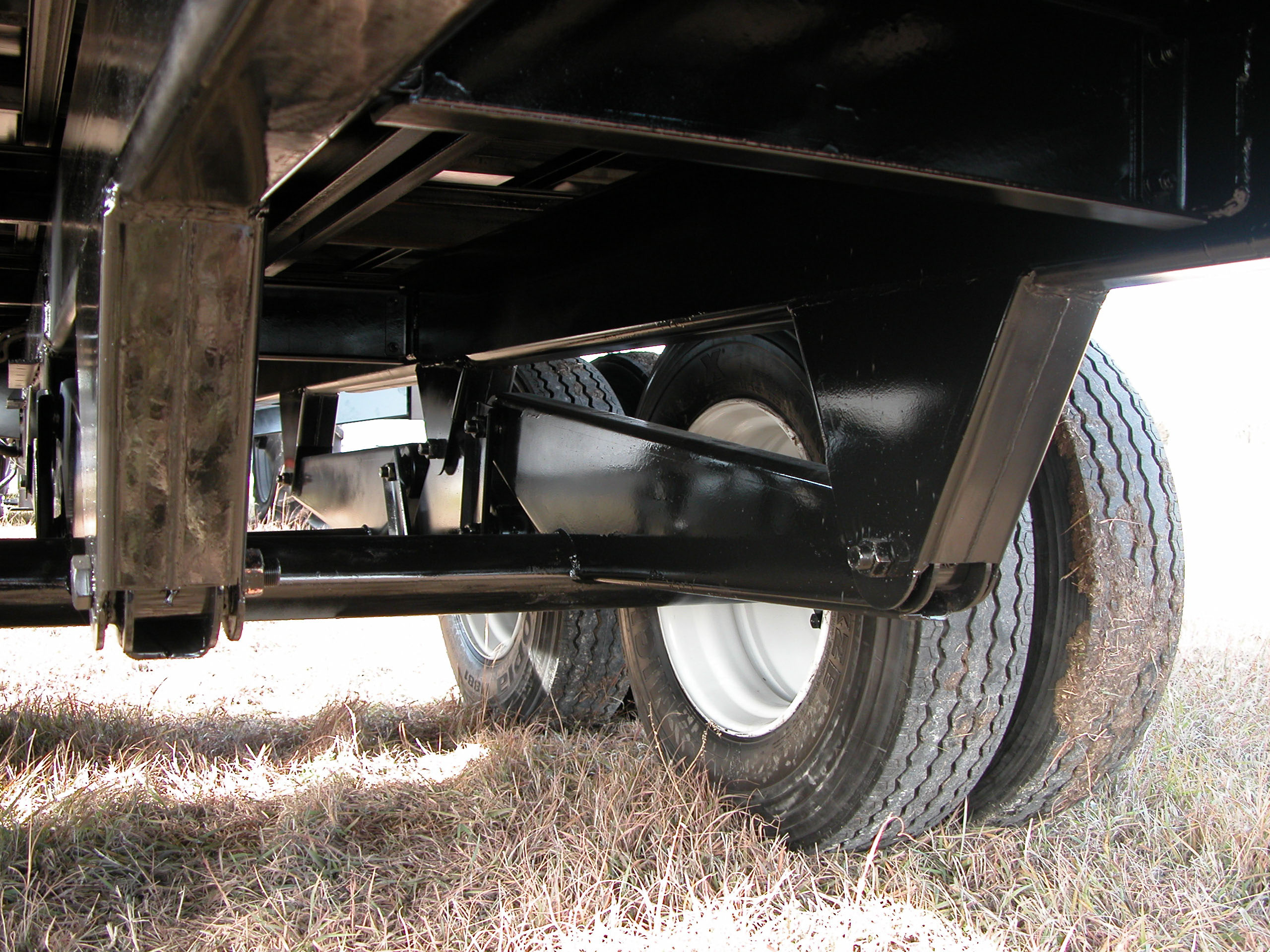 Stacking Midsize Bale Kit Option for 6 bale Trailer mount
Stacking Midsize Bale Kit Option for 6 bale Trailer mount
The option includes a second axle with duals (which makes eight 11R 22.5 tires total) and a rocker arm suspension system (shown in the picture) — it also includes beefed up floor supports and the 8 inch beater hood extension. This option allows you to stack the 3x4x8 bales turning the 6 bale trailer mount unit into a 12 bale trailer mount unit. (Click on the Twelve Bale Trailer Mounted unit pictured above for another view)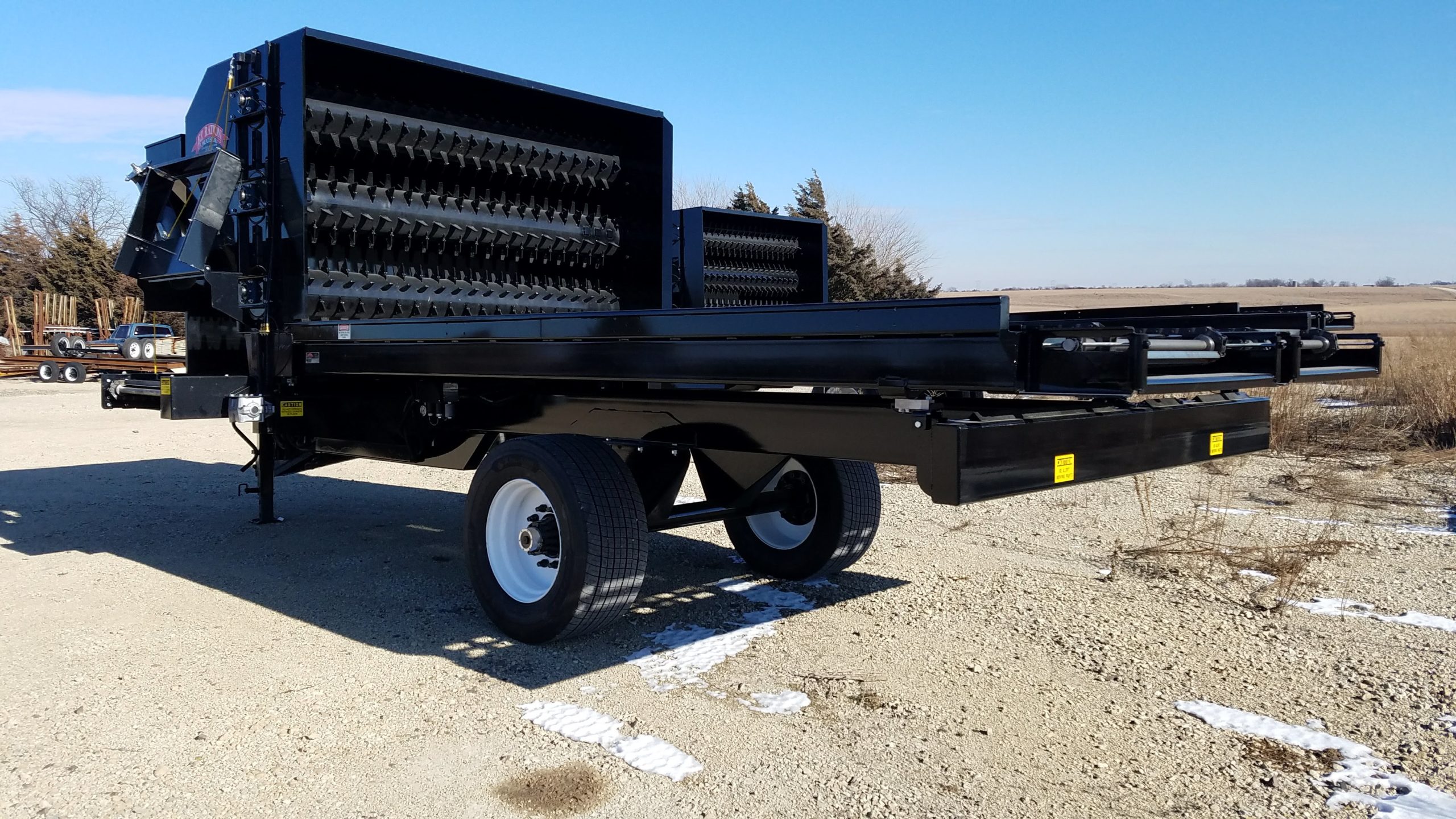 Some customers have been requesting Super Single tires for more flotation and they are now an option on Tractor Pull EZ Ration Processors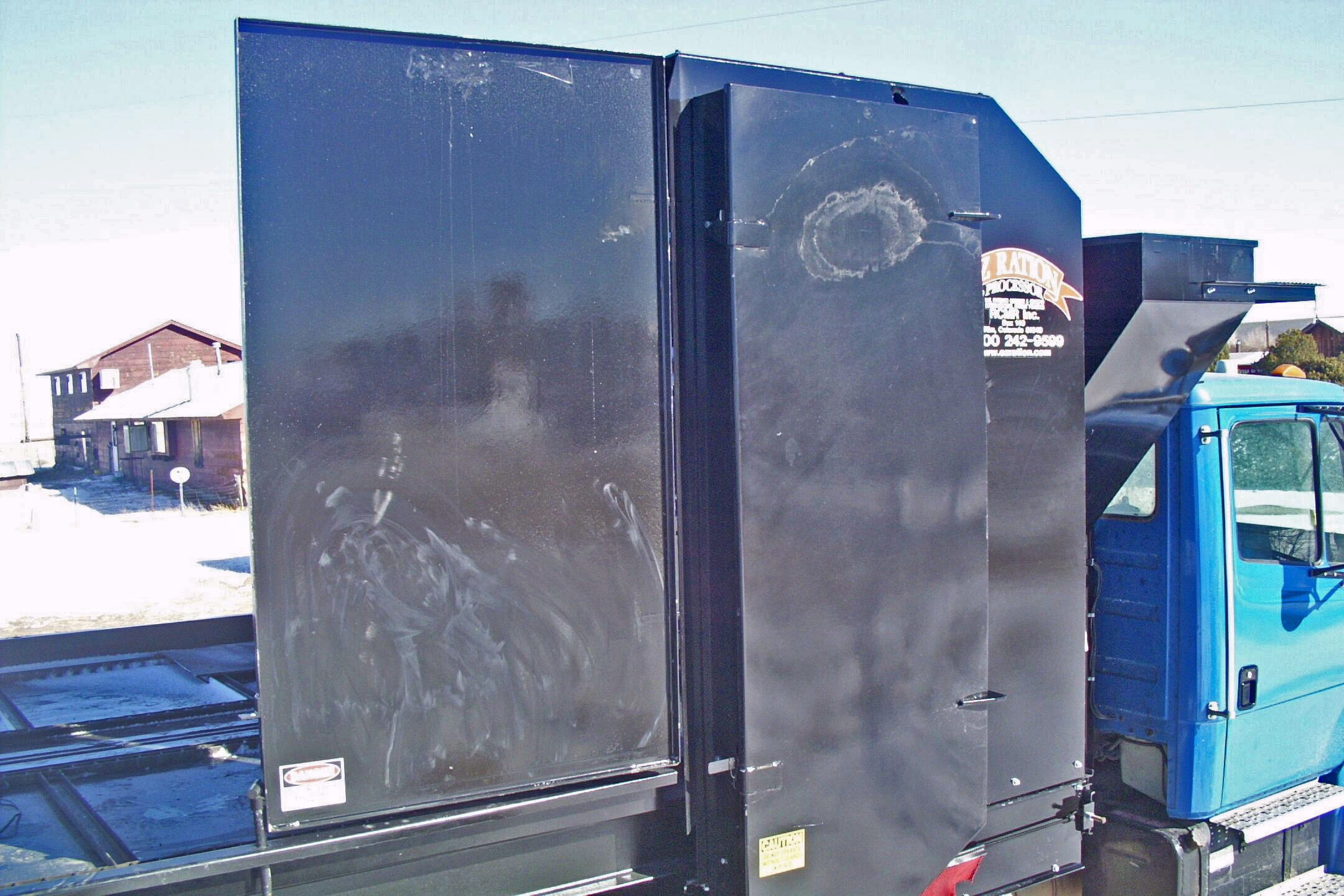 Wings are actually heavy metal doors behind the shredder housing that prevents any spillage off the side while processing the bales — Feedlots prefer them to keep any spillage out of the alleyways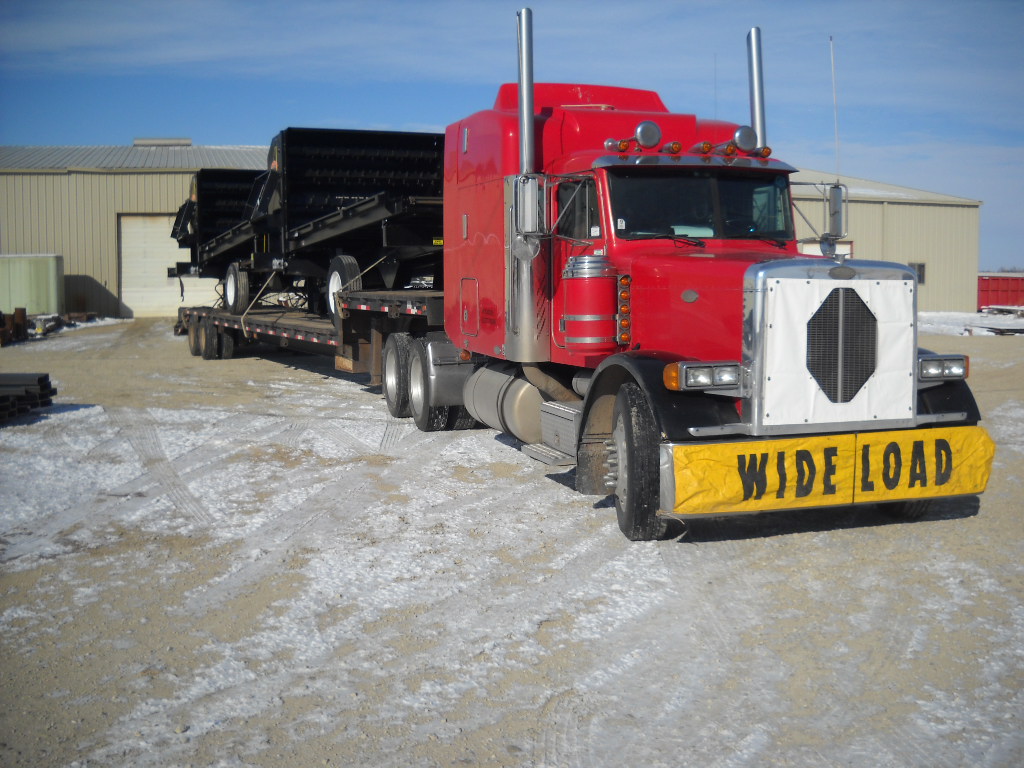 We can help you find a trucking company if need be. We have a couple of affiliated trucking companies that have delivered a lot of EZ Ration Processors to other customers in the past. If you have your own trucks or have a company that you like to use we will help you get them all the information they will need. Most EZ Ration Processor models will require a step deck and in some states, wide load permits are required. Every EZ Ration Processor (tractor pull or truck mounted) is 11 feet 6 inches wide. The tractor pull models are typically 10 feet 6 inches tall. The truck mounted units can vary according to the trucks they are mounted on. The length and weight can vary according to the model and options. Wide load permits are generally not required by the end user after delivery when the product is in use, because it is an implement of husbandry, (you feed cattle with it) –check your state regulations.